First off, I haven't posted a style post in a while, sorry. I've just been inspired to write and film other things. This week, I thought it would be a great idea to share how I pack for a weekend trip.
Second, let me say I'm really excited to travel to New Orleans this weekend with a few friends. I've never been before but I heard they're really big on food and festivals (two of my favorite things) AND the weather is going to be really nice. The French Quarter Festival is also happening this weekend and it's supposed to be the largest free music festival in New Orleans. It's lit!
Third, packing is my least favorite thing to do next to unpacking, lol. I have to create a checklist because I'm pretty forgetful and I'm bound to forget something, then I get forced into buying things when I reach my destination. So to prevent that, I break down my checklist into categories.
Skincare/Toiletries
Face Wash
Toner/Treatment lotion
Moisturizer with SPF
Makeup
Makeup Remover/Cleansing Milk
Sunscreen
Lotion
Toothbrush
Toothpaste
Wipes
Contacts/glasses
Clothing
For my casuals:
Distressed jeans. I absolutely love distressed jeans, I'm convinced that I have every type of distressed jeans ever made.
Graphic Tee's. This has been a new thing for me, lately. I've been buying a lot of shirts that have text/images of thing that I identify with the most.
Joggers. Most likely I'll be wearing this on the drive there. It takes about 7/8hrs to get to New Orleans from Atlanta, so I plan on being very comfortable for the ride.
Tank tops. I've been into solid tanks lately, I've been realizing that my wardrobe lacked the basic staples, so let's just say I'm more prepared.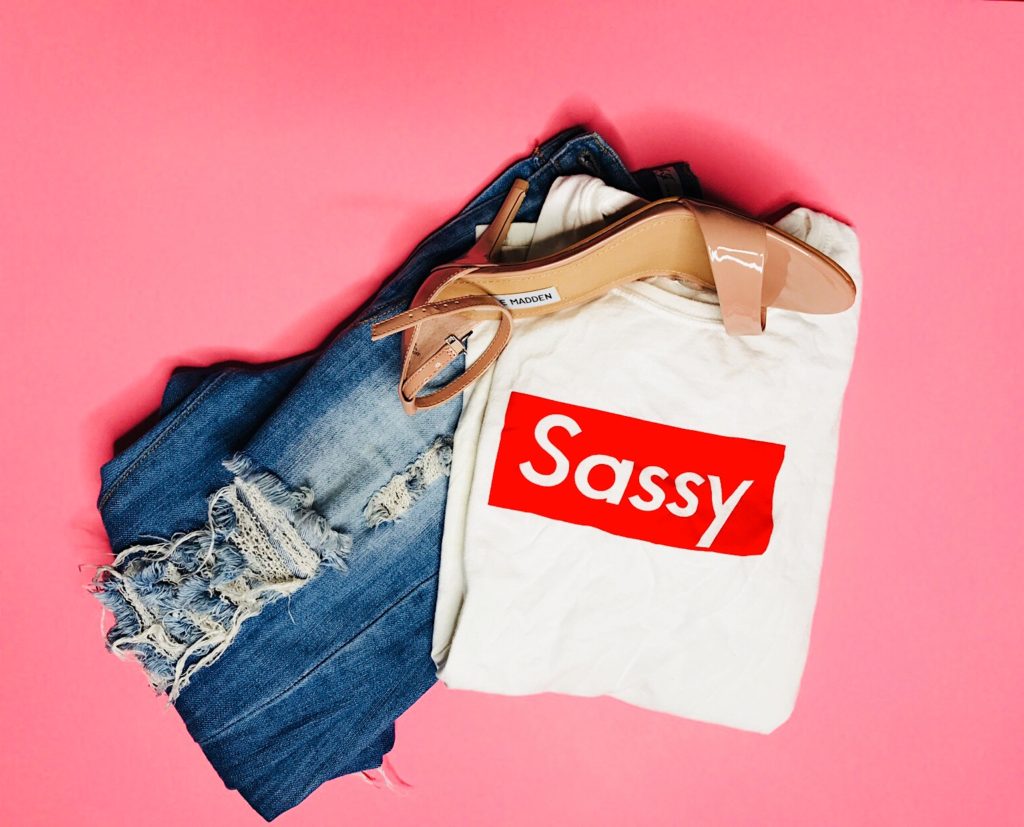 For sexy and cute:
Babydoll dresses. I like dresses that are fitted around the cleavage and flowy everywhere else. In my last shopping haul (

check it out here

) I got a nice dress from Free People, that I finally get to wear.
Rompers/jumpers. I love rompers and jumpers, especially for traveling. It makes things easy when it comes to choosing an outfit and minimizing things to pack. You don't have to worry about what shirt you're going to wear with those jeans.
Bodycon/evening dress. Like I said New Orleans is the place to eat, so I have to have my dinner outfit ready.
Other:
Swimsuit. Since it'll be 80 degrees this weekend, I definitely plan on hitting the pool, so a bathing suit is a must!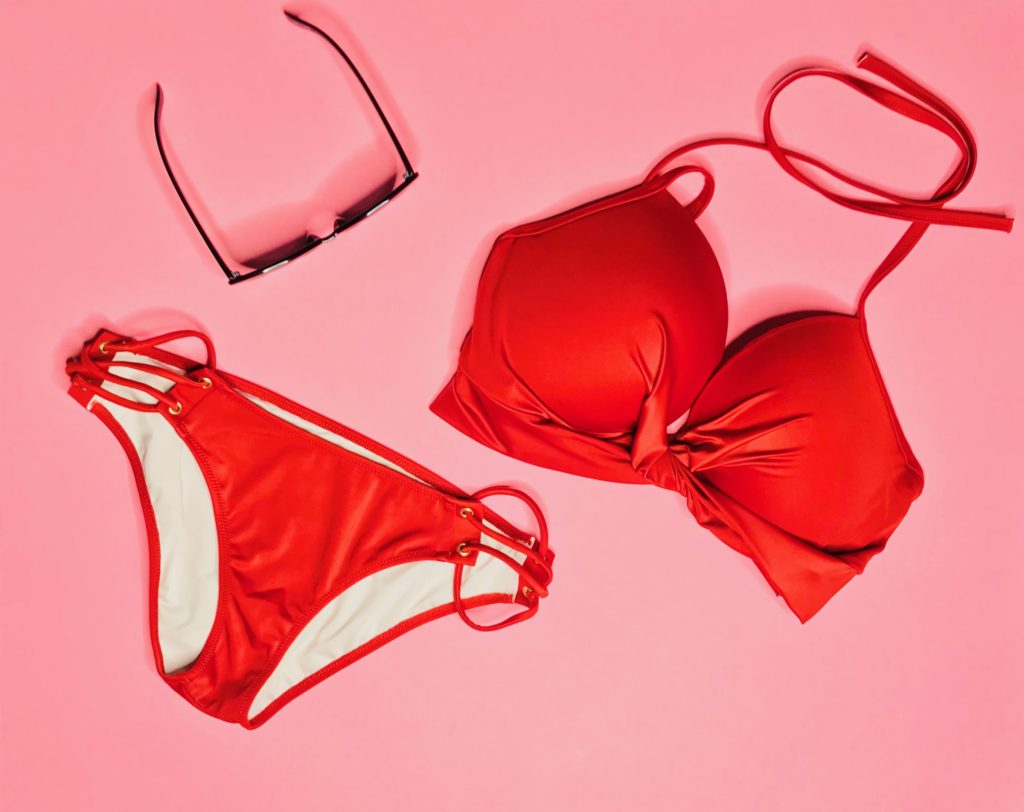 Shoes
Flats/Sneakers. I have some very comfortable sandals, mules, and of course, my huaraches packed because I know we'll be walking a lot.
Heels. I'm keeping it pretty simple if you haven't noticed. So… I'm just packing both black and taupe open-toed heels.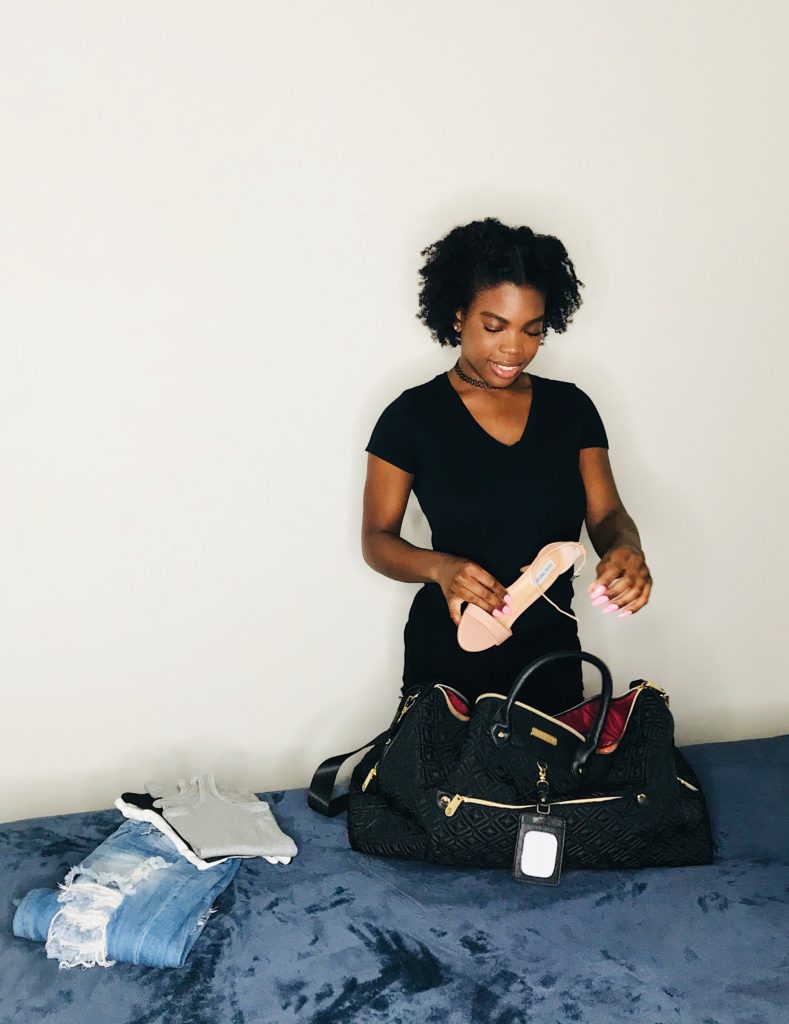 Accessories
A medium sized purse. I don't know about you but I don't carry many big bags with me on vacation unless it's my bookbag. I'm always trying to carry what I need and nothing more.
Bookbag. Only for the purpose of carrying my laptop.
Small bag/wallet case. I bought a fanny pack mainly for this trip. Regardless of where you are, you should always be mindful of those who like to pickpocket, especially at festivals.
Jewelry. I always bring gold AND silver studs, hoops, chokers, and a watch.
Shades. While my melanin loves the sun, my eyes don't.
Duffle bag. To put everything in.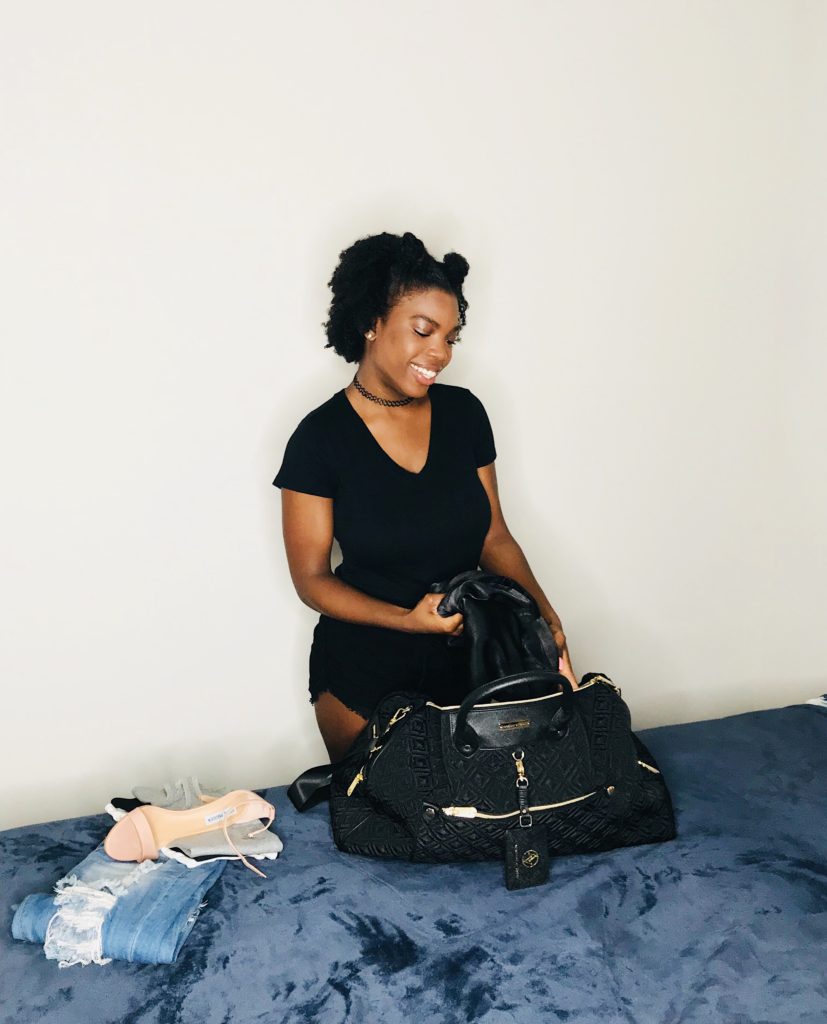 Electronics
My laptop.
Camera kit.
Phone and chargers.
I honestly can't wait until tomorrow to start my vacation. I think we need to remind ourselves that we can have fun and fun fuels creativity. Take a break and enjoy life, we only have one.
How do you survive during road trips? What's on your packing checklist? Let me know in the comments.