It's both very helpful and more logical to implement a monthly skincare system to fight breakouts. My breakouts are usually caused by a number of factors like:
Hormonal changes
Stress
Too many sweets
And not enough water
My goal, of course, is to be superwoman ⎯ never slip on my diet and keep the stress low, but things happen. I have a two-product system that helps me clear up all my breakouts within two to three weeks ⎯ thanks to Origins. I use two of their masking products: Out of Trouble and Clear Improvements.
Out of Trouble
Out of Trouble is a semi-thick 10-minute white mask that cleans away dead cells and removes anything blocking your pores like debris, oil, and more. You simply apply the mask to your problem areas or entire face. Then, leave it on for ten minutes and the mask will clear up any current breakouts while fighting other potential breakouts.
Clear Improvements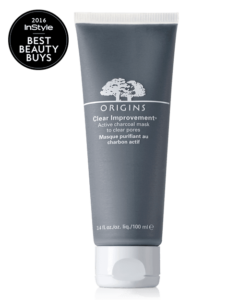 Clear Improvements cleans out the deep-dwelling pore-cloggers that are hiding in your skin. You can apply this to your entire face or just your problem areas, either way, you'll have a fresher face without the pulling and tugging, like most charcoal masks.
The best way to remove breakouts is to switch between the two. I recommend using Out of Trouble as a daytime mask and switch to Clear Improvements as a night routine or alternate your days. One night you can mask with Out of Trouble and the next night switch to the other.
Enjoy your beautiful smooth clean skin!