I realize that you really have to visit a city more than once or more than twice even to really experience it. There's so much to see, do, and learn that it requires more than one trip. I've been to London twice. Once when I was 8 years old and then for my 27th birthday.
From my first experience, I remember doing a lot of touristy things, that I never planned but just went along with. For the second time, I got to experience a bit of the culture and really appreciate the beauty of the city. Most importantly, I learned a lot of lessons and do's and don't to traveling to London. Here are my 8 do's and don'ts:
1. Do try to stay closer to where you want to explore and if it's close to the airport, that's great too.
I made the mistake of staying so far from the airport my uber rides put me to shame. While we were close to some of the tourist attractions, it seemed to be far from a lot of things. The further you are will probably result in you taking more time or money to get from point A to point B.
I stayed at the Hotel Intercontinental o2 in Greenwich. It's a beautiful hotel but it is FAR. Getting around in London wasn't bad but there are some things you should know, which leads me to my second point.
2. Do research ways to get around in London ahead of time to see what the best way (especially if you visit in the summer).
The thing about the summer that makes it super crucial is the heat. I've heard London doesn't get hot, but it was 90+ degrees when I was there in late August. I tried a couple of forms of transportation like Uber.
Uber was great because it was fast and efficient, and also something I was already familiar with. However, it was expensive. The Uber also gives you a price range, so you don't know how much it will actually cost until you've been dropped off and you check your account to see how much dollars you actually spent. I'm not used to Uber doing ranges so it caught me a little off guard, but lucky I split the fare with 5 other people so it wasn't too much cash being spent.
Buses are a no-go for me. I took it once the entire trip and I never did it again. London is used to extreme heat (at least that's what I been told) so because they're not used to it, they're not equipped for it. I'm going to tell you straight up, that bus was hot as hell, no AC, small little windows that you can hardly feel the breeze through, and a whole bunch of people. Nah, I'm good love, enjoy!
The trains not so much of an upgrade. It's also hot (not as bad as the bus) and I'll give London transit the benefit of the doubt that we picked the wrong time to get on the train. It was a holiday and the carnival was going on so maybe that was the reason for delays and a ridiculous amount of traveler. I never gave the train a second chance, so I say try it BUT keep this in mind. If it's something big going on when you visit expect a crowd and some delays. They also close the stations temporarily if there are too many riders on the Underground.
They have boats that take you around the city. This and uber was my primary forms of transportation. It had AC, an amazing view, drinks and snacks for sale on the boat, and it just about the same price as taking the Underground aka train.
*Also note, for all forms of public transportation in London you need an Oyster card and you must tap in and out of every station or you'll get charged more.*
3. Don't take out Dollars before heading to London
They don't was our US dollars. If you take out money, make sure you get it exchanged. I personally don't like to take out money to exchange it because it's expensive and I rather just use my debit card. Debit/credit cards are accepted almost everywhere so to save a bit and make things easier I would just stick to that. They are also very good with contactless cards so you can tap and pay in a lot of place in London. Point is, don't bring dollars. They don't want it.
4.  Do keep your money and valuables safe
There are pickpocketers everywhere, but as a tourist, please keep your things close. One of the people I went with actually had someone attempt to open her bookbag. Don't rely on it not happening to you. Keep your things close and travel with a bag that doesn't give pickpocketers easy access.
5. Do check at least one bag and put all your liquids in it (especially the ladies)
So I didn't check my bag to London, but I had to check it on my way back to Atlanta. London is very strict about the number of liquids that can go through their security. The max is 100ml, they don't do ounces like the states. Although I had all 3oz travel-sized liquids, with all of my skincare and makeup, they told me it was too much. I had two choices: throw it away or check my bag to go under the plane. My makeup alone is worth more than $100 so throwing it away was not an option, period.
6. Do buy a charger adapter for your devices
Don't risk not being able to charge your devices, it's not safe nor smart. When traveling to the UK in general, their outlets are different. Even if they do have US outlets it won't be a lot. If you have a lot of devices as I do, it will be so much easier if you brought your own adapter. When I went to Paris for the first time I didn't know any of this so I had to rely on the TV and my laptop to charge my phone, which I wouldn't recommend. Luckily I only stayed for just a day. So get on amazon and get an adapter!
7. Do enjoy the food, don't worry about diet restrictions
I was pleasantly surprised to see how diverse the food scene was in London. I'm a pescatarian, which means I only eat seafood. At first, I was worried that I won't be able to have many options but that was not the case. Almost every restaurant I went to had vegan, vegetarian, and fish options. The street carts may be a different story, but all the places I visited had great options. I wish I would have remembered the names of the places but I don't (sorry). Maybe next time, I'll do a food article on the best places to eat. Look at me finding more excuses to go back to London, lol.
8. Take advantage of the trains that take you to other cities in Europe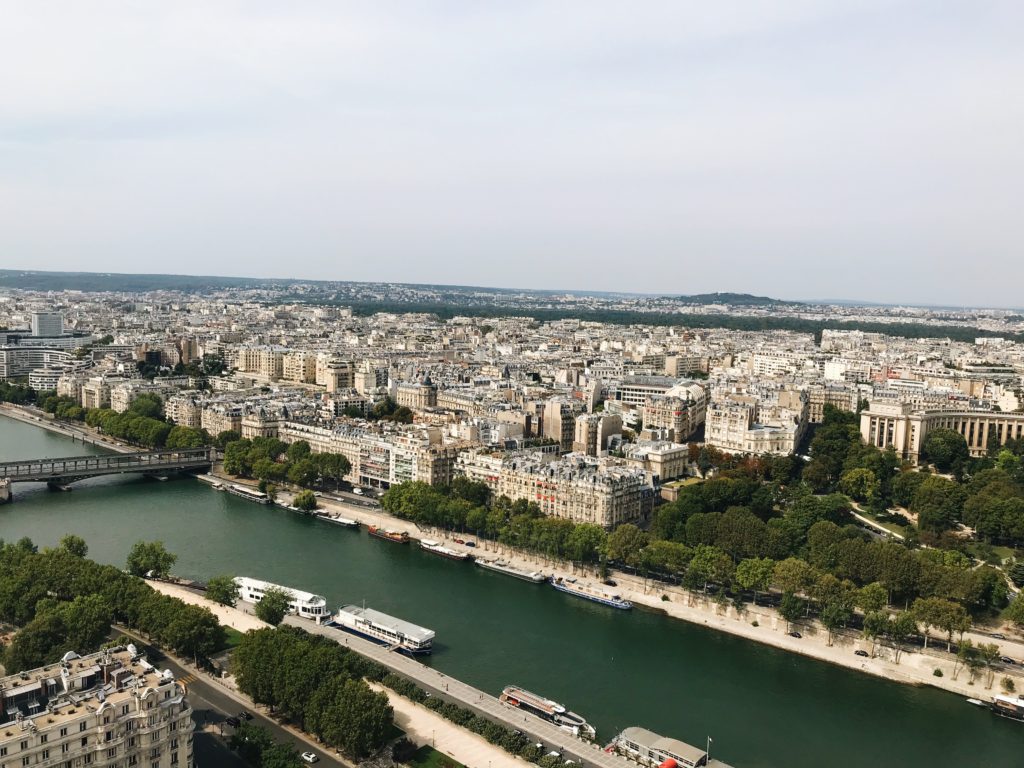 Take advantage of the train system and continue your exploration. From London, I went to Paris, but you can literally go anywhere else, Brussels, Amsterdam, Italy, to name a few. Spend a day or a week and really travel the world like a boss. I'm not going to lie, the train isn't the most lavish travel method, but you can find really good deals. I think it's definitely worth taking into consideration. Depending on when you book and who you book with, it may be cheaper than a flight.
I booked with Golden Tours and our package came with the train ticket, a guide, entry to the Eiffel Tower, the Seine cruise, and entry to the Louvre Museum. I paid $260 for everything btw, that's not a bad deal.
Hope this was helpful. Leave any questions in the comments below.