So I decided to update this post because I've explored better ways to fight my breakouts ⏤ same products, different technique. If this is your first time reading this, enjoy. If you've already read the old version of this post, I'm sure you'd like this better. Please keep in mind that I have normal/combination skin and my routine is for those with that skin type. Let's go. 
It's both very helpful and logical to implement a monthly skincare system to fight breakouts. Breakouts are inevitable and, for me, it's caused by a number of factors like:
Hormonal changes
Stress
Diet
Not enough water
My goal, of course, is never slip on my diet and keep the stress low, but things happen. I have a five-stem system in place regularly, but when it comes to breakouts I add two more using Origins masking products: Out of Trouble and Clear Improvements.
First, I start will my regular day to day five-step system. (If you're comfortable with your cleansing and moisturizing routine, feel free to scroll down to my masking system).
Cleanser
I use A Perfect World to clean and detoxify my skin from harmful toxins. This cleanser consists of Antioxidants, White Tea, and Coconut and Oat Amino Acids, so it leaves you with a youthful and clean skin.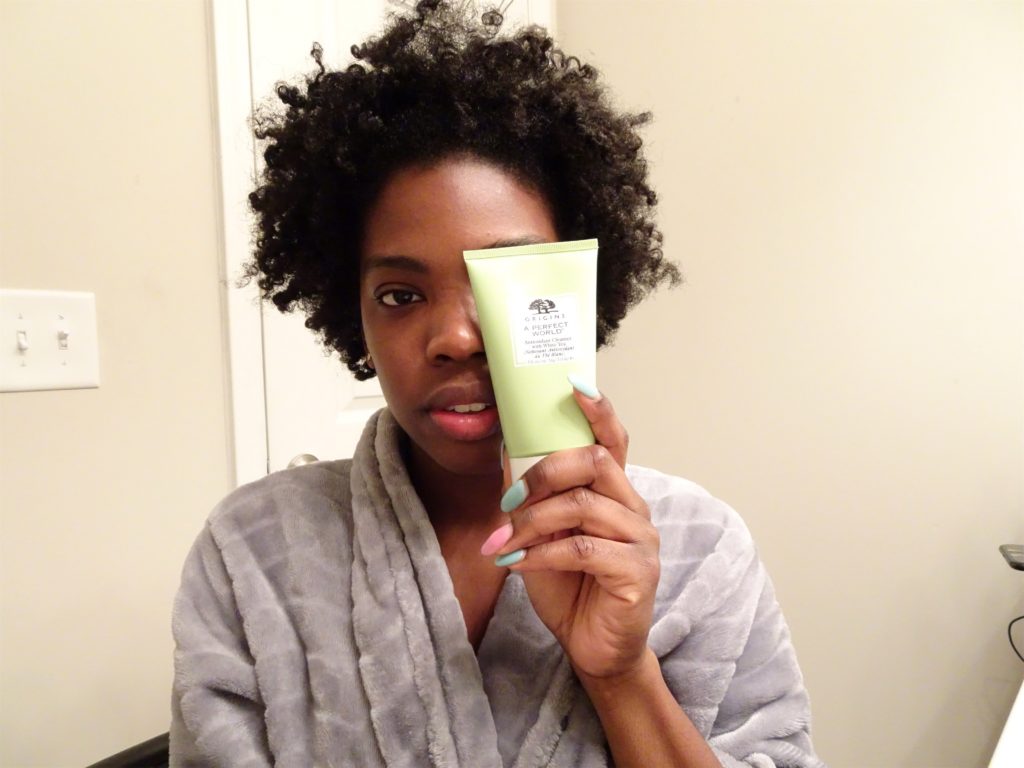 I gently massage my face two times with this cleanser.
Treatment Lotion
I use the A Perfect World Treatment Lotion to prep my skin for any treatment I choose to do after, in this case, we're fighting breakouts and toxins. This formula contains White Tea and revitalizing Trehalose hydrate (a rehydrating and water binding sugar property found in plants). This leaves your skin soft and smooth, removing any dirt left on your skin.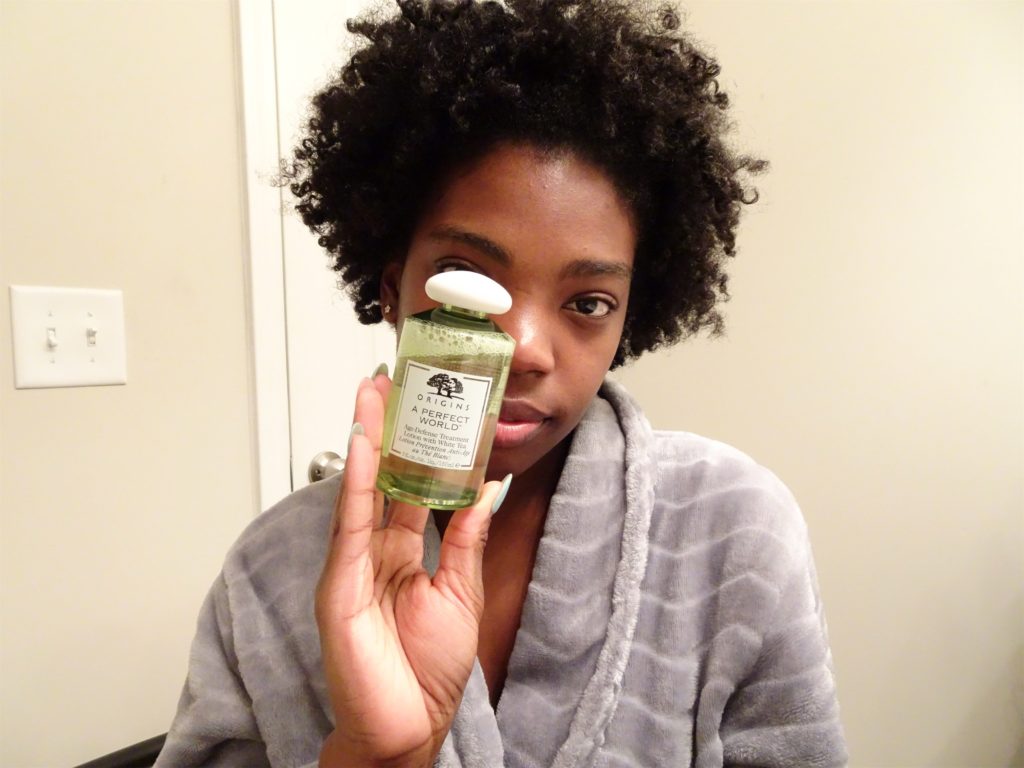 I massage my face with this using a cotton ball/pad. Make sure your skin is completely dry before heading to the next step.
Serum
I absolutely lovee the Renewal Serum with Willowherb. I had no idea what willowherb was before using this product. That's the good thing about natural products, you're introduced to so many natural beneficial ingredients! (sorry my bottle has been through the works). Willowherb is a flower that changes dull and discolored skin by adding radiance. In other words, it hides imperfections and gives your skin that glowing look we all love.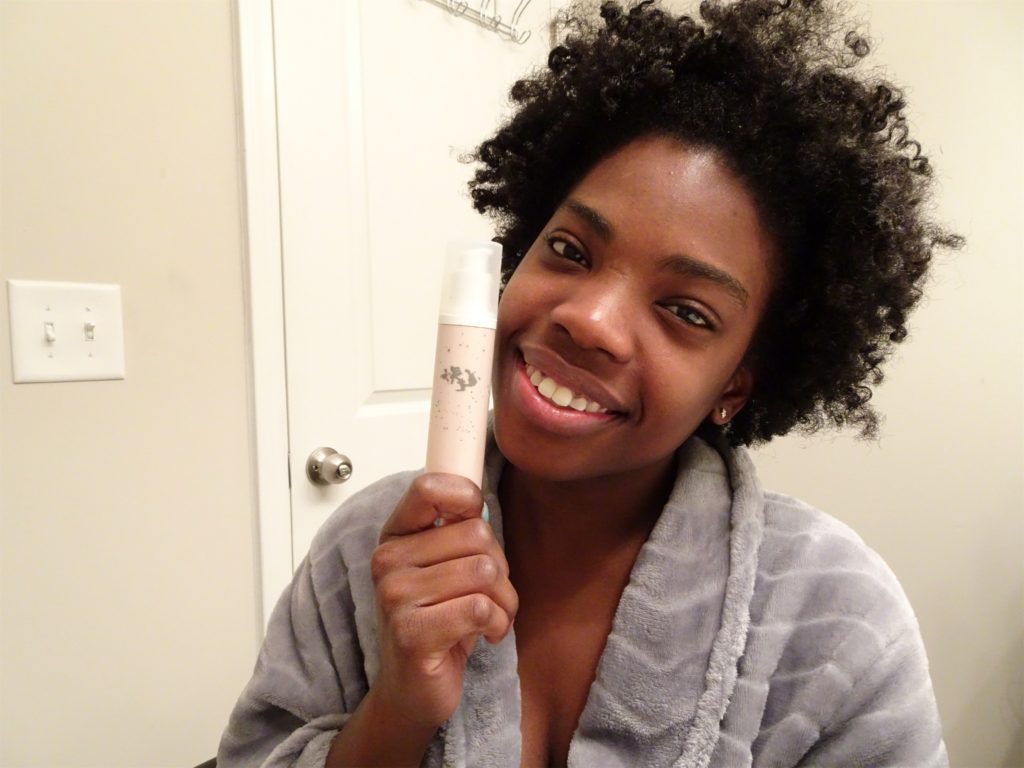 Apply this to a dry face.
I'm sure you can guess what product I use, A Perfect World Moisturizer with White Tea and SPF 40. This strengthens your skin so it can fight the damaging effects of pollution and other aggressors.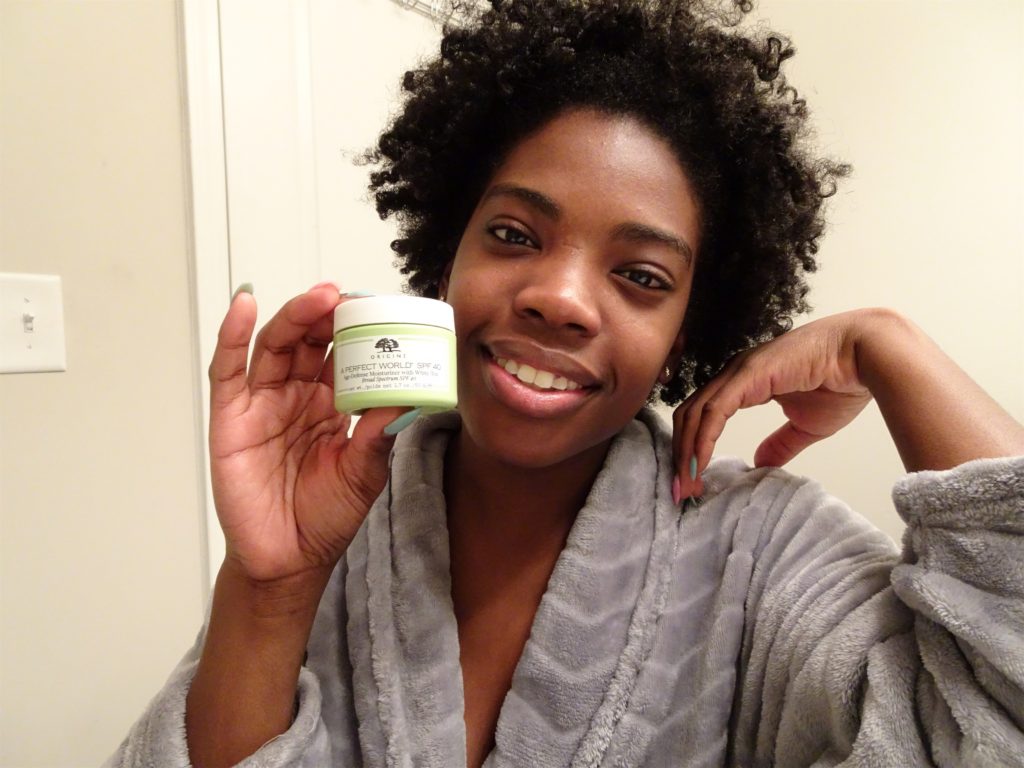 Massage into your skin after your serum.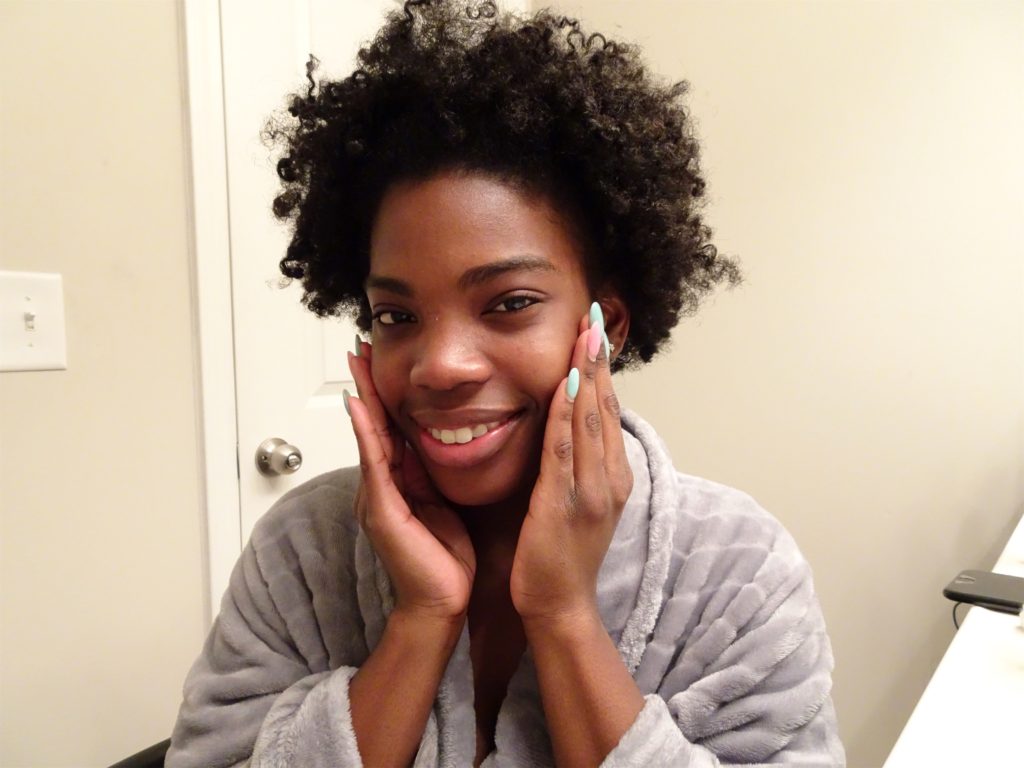 Eye Cream
I use A Perfect World eye cream with SPF 20 in the morning and the Ginzing eye cream at night. Both Eye creams renew and brighten under your eyes, however, A Perfect World adds SPF protection during the day.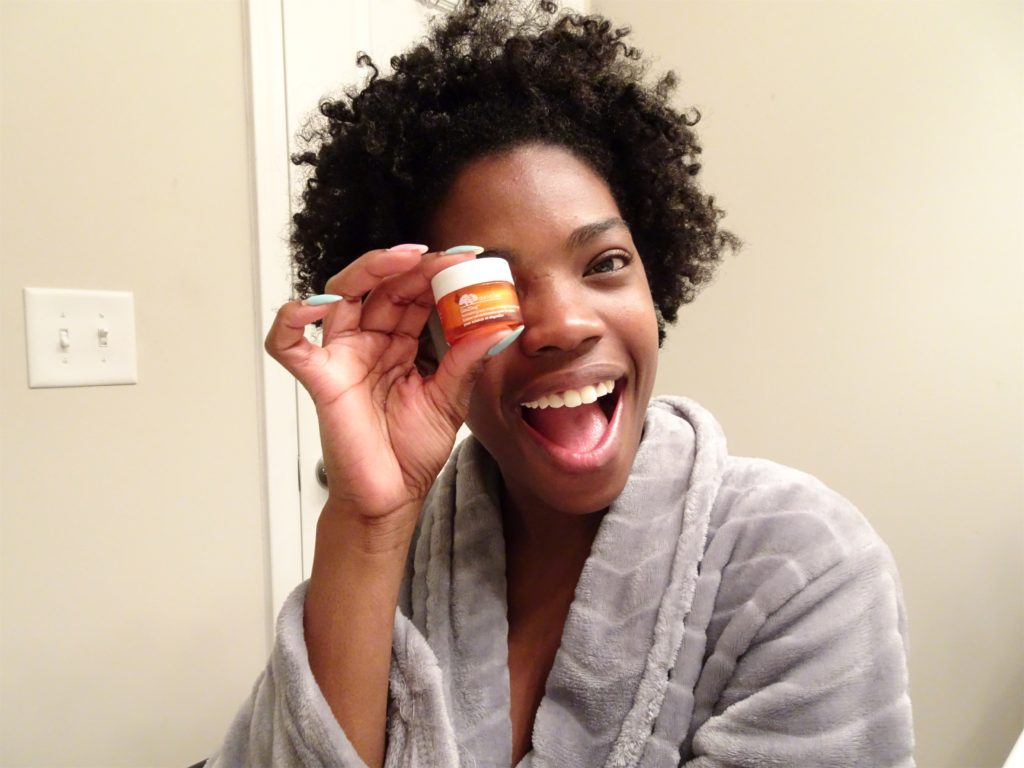 Apply gently under your eyes using your ring finger.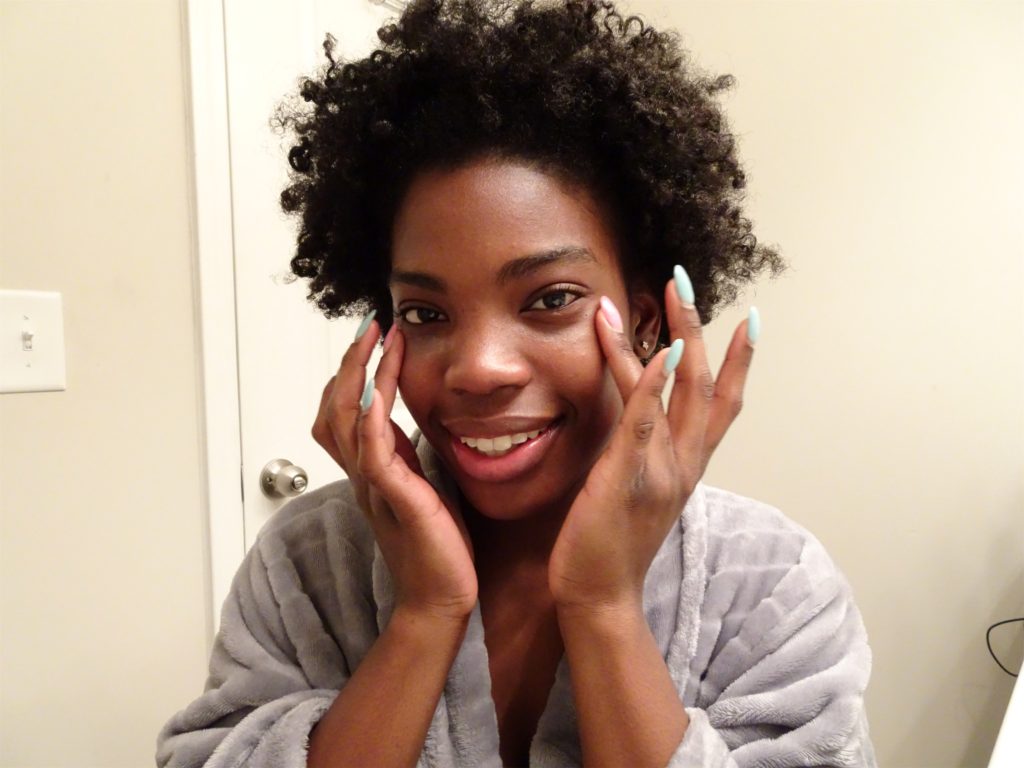 Masking System
Out of Trouble is a semi-thick 10-minute white mask that cleans away dead cells and removes anything blocking your pores like debris, oil, and more.
You simply apply the mask to your problem area and leave it on for ten minutes, then rinse/wipe off.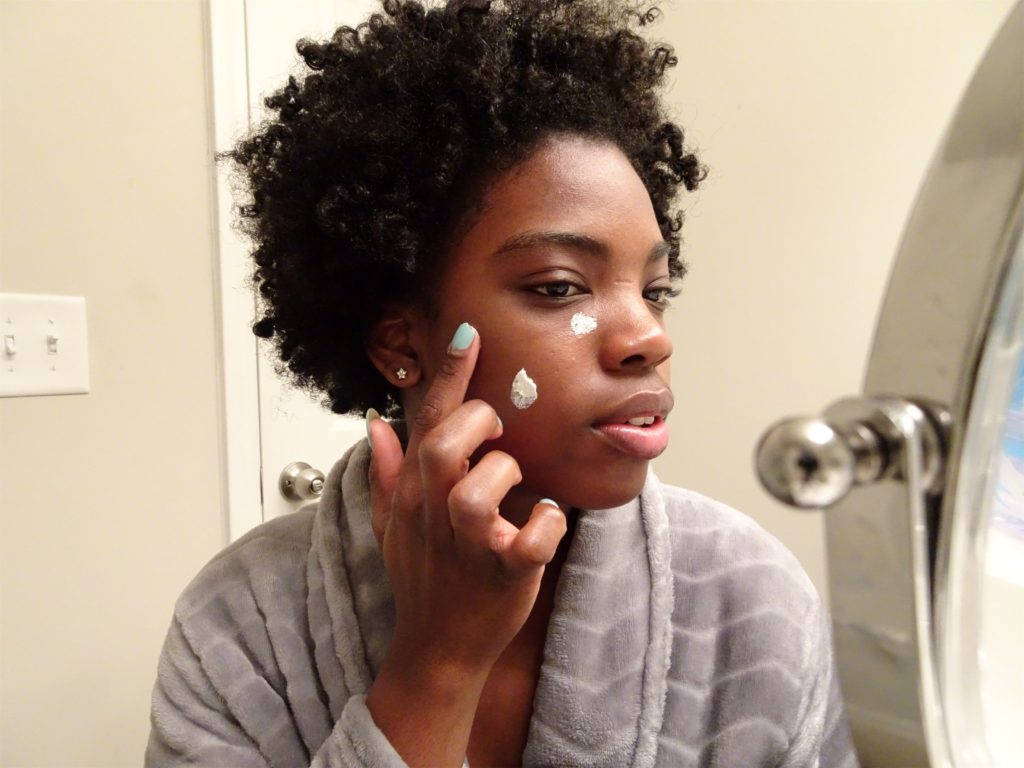 Clear Improvements
Clear Improvements cleans out the deep-dwelling pore-cloggers that are hiding in your skin.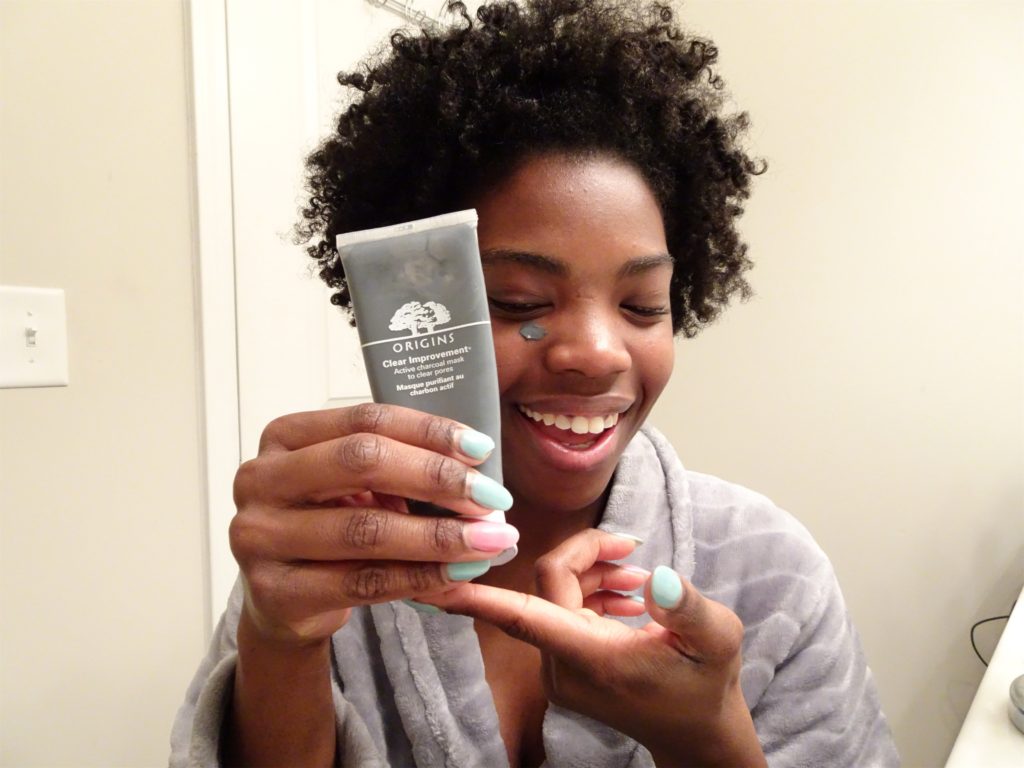 So once you're finished with the 10-minute mask above, apply the charcoal mask to your problem areas. Rinse/wipe off once the mask dries.
The best way to remove breakouts is to use both of the masks. I recommend using Out of Trouble first for the first two-three days so that it can remove whatever is clogging your pores. Then the Clear Improvements so it can add smoothness to your skin and clean out whatever else may be clogging your pores. This is one of the best products by Origins, so if nothing else I definitely recommend using the masks.
Enjoy your beautiful clean skin! If you have any questions drop it below.