Disclaimer: I received these products from Curlfluence in exchange for a review, but my opinions are 100% real and my own.
When I get a new package I'm always excited, I get to test new things and then share it with you all. I received my Tre Luxe "Curl Renew & Restore" cleanser along with the "Untie the Knot" leave-in conditioner about a week ago; I never tried anything previously from the brand before and I was dying to test it out.
Just to give you a little tea about the brand, their mission is to empower women to navigate life with confidence and uniqueness. They're all about confidence, social consciousness, and contributing to society. Tre Luxe goes deeper than hair products, their about pushing women forward. I can get with that, so can you, right?
The products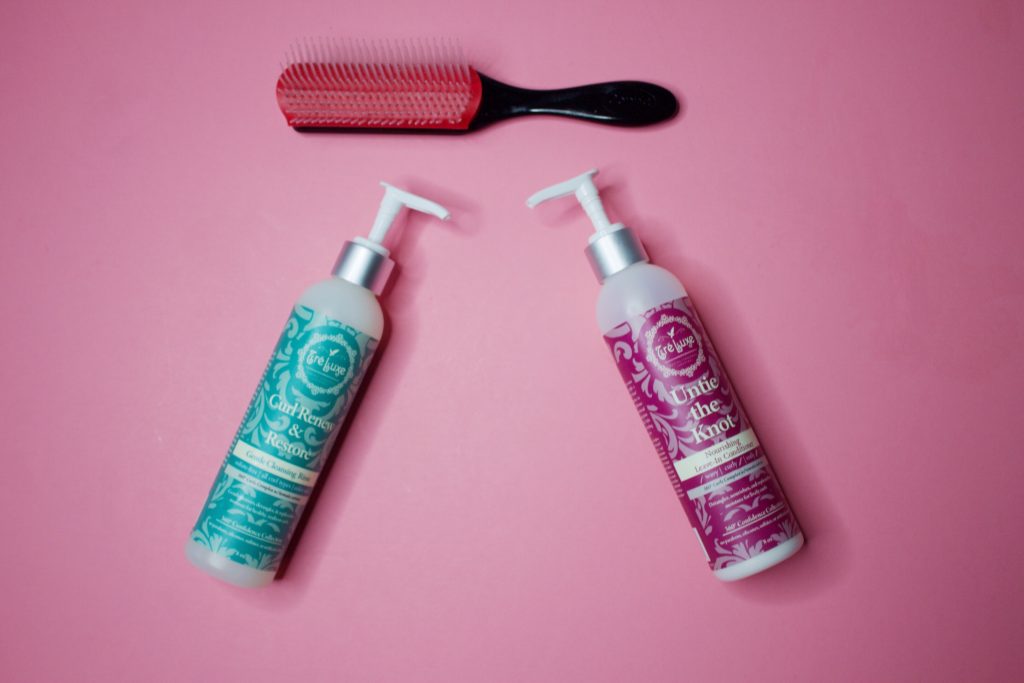 Tre Luxe offers products made of natural active botanical ingredients. They believe that high-quality natural ingredients are more beneficial for your hair and picking up where nature left off is the way to do it. So, I was able to try their "Curl Renew & Restore" cleanser and the "Untie the Knot" leave-in conditioner, here's what I think of each product…
Curl Renew & Restore Cleanser
The Curl Renew & Restore cleanser made of mostly Coconut milk and Slippery Elm extract, which makes the cleanser more liquid-like than most cleanser and shampoos. It was very easy for me to apply it to my hair, and once I did, it immediately made my hair feel silky and easy to come through. I also felt a bit of hydration which added the right amount of moisture before I conditioned my hair.
After I cleansed my hair I moved deep conditioned my hair with my Joico conditioner (which I won't recommend, I don't think those products work well together) and a few oils to seal it in. After I washed out my condition I began to prep my hair with the leave-in conditioner and twist my hair.
Untie the Knot Leave-in Conditioner
The Untie the Knot leave-in conditioner is made of Coconut Milk, Slippery Elm extract, and Broccoli Seed oil. This is my first time using anything with broccoli seed oil and I was hella curious!
Initially, I didn't feel as much moisture from the leave-in conditioner as I hoped, because my hair is pretty dry and requires a bit of moisture. Nevertheless, I continued with my LOC method; once I added my styling cream, my curls were more moisturized and defined. I usually air dry my hair, but I decided to go under the dryer to make sure the moisture got into my strands.
 Overall What Did I Think?
Both products smell amazing.
The cleanser is my favorite. I think it's gentle and makes washing and detangling your hair much easier.
I didn't like the initial feeling the Untie the Knot leave-in conditioner gave my hair, but it came through with the moisture. (I'm not sure why the initial feeling was like that but my hair was hydrated for days, sis.)
This product works on all hair textures, which is great.
The products price point is not too bad. The cleanser is $14.50 and the leave-in conditioner is $18.50.
While we're talking TreLuxe and I keep stuff pretty transparent, I have to talk to you about meeting the owners. I was asked to shoot with the brand along with a few other beauties and it felt really good to connect and get to know the everyone. At the shoot, I saw with my own eyes that this product is for all the girls with curls and I love that. The owners were so nice and very passionate about their brand and it's black-owned! Their mission is to really provide a product that works for all curly hair types while using ingredients that are good for your hair.
I can't wait to share more pics with you, so make sure you're following me on Instagram (@iamkrissylewis) to check them out. In the meantime, see for yourself how Tre Luxe works for all the girls with curls.