Disclaimer the products in this post have been sponsored by Cheeky Curls BUT the opinions are 100% my honest thoughts.
You're probably wondering, what the heck is Cheeky Curls? Don't worry, I got you! Cheeky Curls is a natural hair brand that offers healthy natural hair care without harmful ingredients for all hair types. The creator of Cheeky Curls, Gina, was inspired to create this line because of her Rheumatoid Arthritis. She believes that chemical-laden products are doing so much more harm than good and decided to create a solution. Cheeky Curls are free of parabens, sulfates, silicones, dimethicone, phthalates, paraffin, formaldehyde releasers, propylene glycol, mineral oil, petrolatum, and synthetic fragrance/color.
So now that we're all on the same page, let's get into the products, styling tips, and my thoughts.
The Products
I'm going to break down each product with what it claimed to do and what I felt it actually did, pricings, and information on the product. The products I received from Cheeky Curls included:
COSMOPOLITAN Curl Whip (4 fl.oz.) $19.99
The Cosmopolitan Curl Whip claims to be a curl cream for wave and curl definition. The fluffy whip claims to soften, define and add shine curls without leaving residue or weighing down your hair.
What did the product do?
The curl whip is very similar to a styling butter to me. The thick and fluffy cream adds moisture, shine, defines, and softens your hair making detangling so easy. It is suggested to use a leave-in prior to using the curl whip which also helps with the detangling process. I think the curl whip did everything it claimed to do, I would actually add moisture to the list too.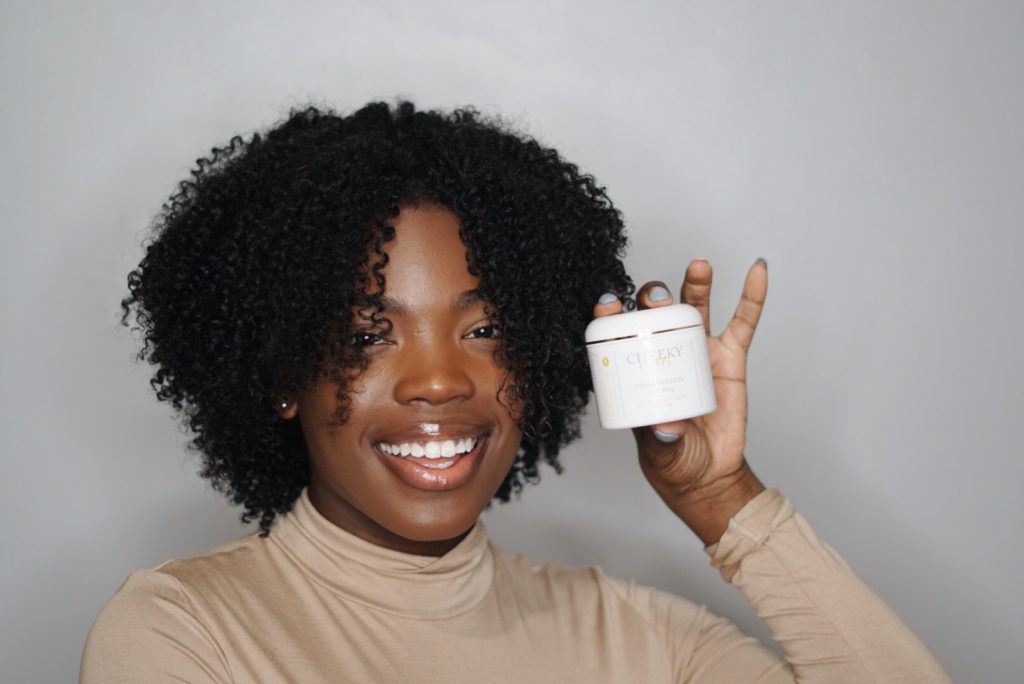 LEMON DROP Curl Custard (8 fl.oz.) $15.99
The Lemon Drop Curl Custard claims to be a natural gel to hold your waves or curls in place, hold on tight to your waves and curls for a maximum bounce, and adding moisture to your hair.
What did the product do?
The curling custard definitely provides hold and more definition to your hair. It reinforces what the curl whip does.
ROSÉ Curl Volumizer (8 fl.oz.) $17.00
The Curl Volumizer claims to quickly rejuvenate waves and curls and restore the body to your hair.
What did the product do?
It did what it claimed to do. This is one of the best curl refreshers that I've used in a while. You don't need to apply the curl whip or custard again, and you don't need any water either. I recommend using the Rose curl volumizer with oil and you're good to go. The spray also has a really nice light and beautiful natural scent.
Pros and Cons
Pros:
adds so much moisture
softens and defines your hair
no harmful ingredients
seems to work well other products from different brands
doesn't weigh down your hair
Cons:
Smell. I understand the fragrance-free concept and love that, but I'm not necessarily a fan of the lemon smell.
No leave-in conditioner. I wish the line came with a leave-in because when I used another product from a different brand I was afraid it wouldn't react well and cause residue. Thankfully it did not! I also think based on the products I tried a leave-in conditioner would be bomb!
Pricing. This may be too pricey for some, however, I wouldn't mind personally paying because the products are bomb ⏤especially the curling custard.