My mom started my sister and me on a skincare routine when we were young — I started at 16 and my sister at 14.  She made it clear that the earlier we started, the healthier our skin would be and the greater the chances were to prevent skin issues. It made sense.
When it comes to products though, you have to go with works best for your skin and what you're trying to achieve. Recently, I tried L'Oréal's new Revitalift collection and I believe it's a good line to consider to jumpstart your skincare routine aside from just washing your face and heading out. Here's why:
Let's start with the products. The collection comes with three products: the Revitalift anti-aging lotion with SPF 30, the Revitalift serum, and anti-aging moisturizer (without SPF). The products contain pro-retinol, vitamin C, Hyaluronic acid, and 10% pure Glycolic acid. Let's break down each product and its benefits.
First of all, let me say sunscreen and/or SPF is a crucial part of everyone's skincare routine. It's so important to wear sunscreen or products with SPF to protect your skin from the sun. If you experience hyperpigmentation as I do so then it's also helpful in preventing those spots from getting darker. According to the American Academy of Dermatology Association,
"Whether you're treating the dark spots on your own or seeing a dermatologist, sunscreen is essential. Used daily, even when it's raining or snowing outdoors, sunscreen can prevent further darkening. You'll want to apply sunscreen to all skin that clothing won't cover."
If your skincare routine is missing sunscreen, you need to add it ASAP. With the Revitalift anti-aging lotion with SPF 30, it's very lightweight and oil-free so it doesn't make your skin look oily. The fact that it's oil-free, makes it great for all skin types – dry, combination, and oily. It has the right amount of sunscreen protection so you can apply it and go. A little goes a long way, I don't use more than a pump full and I apply it across my face with one finger and massage it in.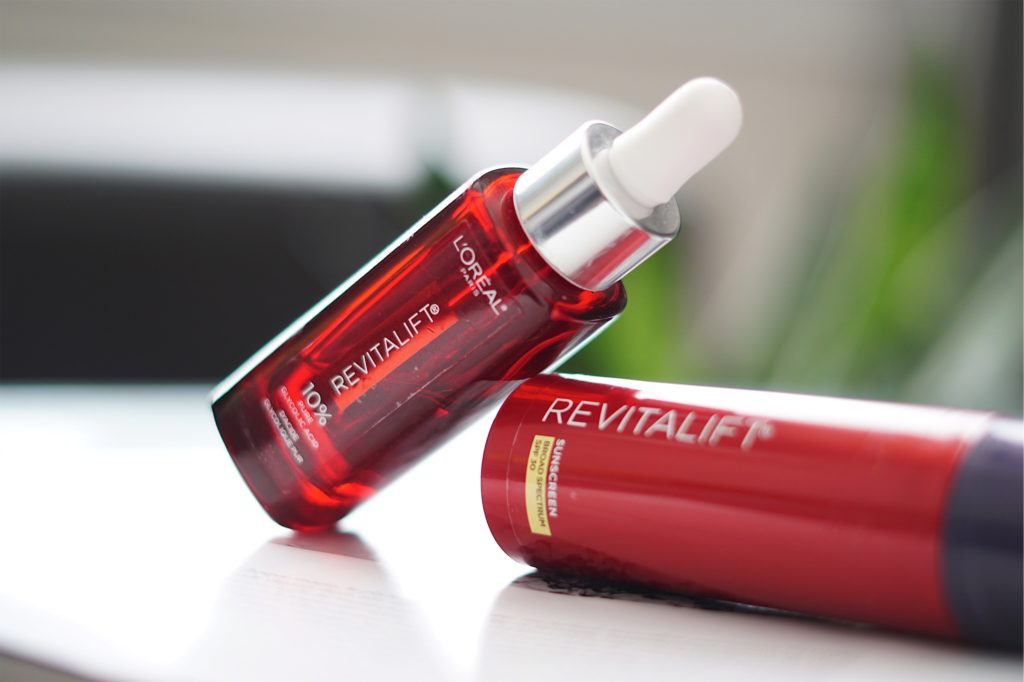 While we're talking about protection let's get into the face serum. The purpose of face serums is to also protect your skin with added vitamin C, improve your skin texture, brighten your skin, and reduce the appearance of pores. The Revitalift serum is probably my favorite product from the collection. It's very lightweight and is good for all skin types. I've never used a liquid-based serum but it every easy to apply and instantly softened the texture of my face. Coming out of a hot summer, the extra protection didn't hurt. Also, it minimizes your pores pretty well for serum and I also use this when I don't wear foundation.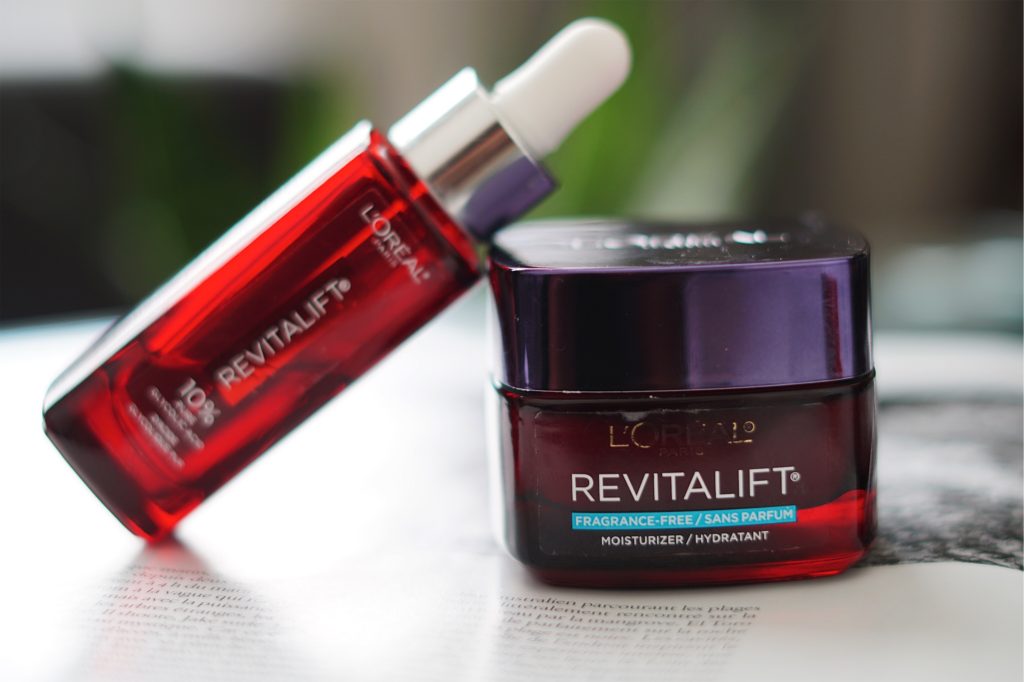 The last product is the Revitalift moisturizer. To be honest,  I used this the least. I used it as apart of my nightly routine but wasn't all the ways sold. Not necessarily because of the product itself, I just personally felt like I can have a better nightly routine with another moisturizer. It's lightweight like the rest of the collection and does moisturize your skin but I didn't love it as much as the other two products. But, keep in mind, your experience might be different from mine.
My overall thoughts?
I think this is a great collection to get you started on your skincare routine. I can't stress how lightweight this product is which is great, because you'll never feel like you have too much on. Have you ever used a product that felt so heavy? It's not like that and if you don't know the feeling, it's not a good one. I have combination skin, but as I mentioned before it seems to be a good fit for everyone. I felt that my skin always had the right amount of moisture and never appeared greasy.
This is also a simple enough routine to get you started with your skincare routine if you don't already have one. It also very accessible so you can get it at your local Walmart, CVS, or other drugstores. The best way to describe it is as a product will a high-end feel with drugstore convenience.
I also think this line SHOULD have included an eye cream. I strongly encourage you to use eye creams with SPF or an anti-aging benefit. Our eyes can he get darker and age just like the rest of our face. However, it is one of the most sensitive areas on our face and needs to be treated a little bit differently. Other than that, I like the products and the line.
Lastly, if you have more pressing issues like extreme hyperpigmentation or severe acne, I'm going to be real with you, I wouldn't recommend. Find a good dermatologist and work with them on more serious skin concerns.
I hope this was helpful. I uploaded a cute no foundation skincare routine and demo on how I used the collection. Watch it below!
Let me know in the comments if you have a skincare routine and if you'd try these products.